Commercial Roofing Maintenance Tips:
What is Commercial Roofing?
Commercial roofing is the ultimate solution for homeowners and is continually being appreciated for use. To explain it very simply, commercial roofing is a very thin, seamless material usually made out of metal to serve as a top for your roof. Basically, it's a seal that prevents water leakage and other external materials that have the tendency to sneak into the house, to actually be let in. You need to realize that when deciding to have commercial roofing applied, there are many factors to keep in mind. Since every roof is made differently, this service is better explained by professional contractors as to which type of roofing would be best suited for your building since there are many conditions prior to getting commercial roofing applied, the most important being the type of roof that you already possess. This mainly talks about the roof's style and structure, it's best that you get an expert contractor to guide you through deciding what type would be best for your roof.
Why Preventative Maintenance For Your Commercial Roof Is Important
To maximize the lifespan of your roof – with quality installation and proper maintenance, your roof can last 15 to 30 years. By fixing minor problems before they become major headaches, you can extend its service life. This should start the first year after installation and continue over the lifetime of your commercial roof.
To protect the structural integrity of your roof – just one inch of standing water can weigh more than five pounds per square foot. All it takes is two days or less of this kind of ponding to affect the fundamental reliability of your roof. In extreme cases, it can result in roof failure.
To improve your roof asset management plan – your commercial roof should be considered an asset and, as such, needs an organized approach to its care.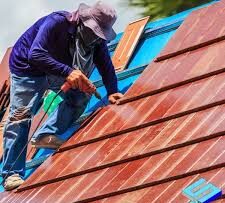 Strategies to Get the Most Out of Your Roof
Just like any capital investment, a commercial roof can last it's life cycle if properly maintained. With regular inspection and a good maintenance plan, you can discover and address minor issues before they escalate into serious problems that can result into substantial roof and other property damage. Actively maintaining your commercial roof is vital as it helps to prevent needless expenses and improves the lifespan of your commercial roofing system.
Whether you're planning to install a new roof or make changes to your existing roof, these commercial roofing tips will help you to get the most out of your roof.
1. Choose the Right Roofing Material
It is always important to have the right type of roofing fixed from the outset. Most commercial roof materials are made of rubber, metal, thermoplastic nowadays. Choose a roofing material based on durability and high performance. You may be tempted to save money by choosing a cheaper roofing system but you might end up spending more in the long run.
2. Use Expert Roofing Contractors Always
Whether you need a reroof or repairs done, always ensure you hire an expert commercial roofing contractors to handle any roofing issue you may have. Never allow any unlicensed or inexperienced contractor fix your roof. Small roofing problems can deteriorate sometimes if handled by a contractor with a no know-how or experience in dealing with the underlying cause. If your roofing system is handled carelessly, your business can be put at risk because you'll spend lots of money on repairs. Always select a professional licensed roofing contractor to perform all your commercial roof repair and maintenance work.
3. Perform Regular Inspections
Taking good care of your commercial roof is of significant importance if you desire a long lasting roof. Perform routine checks to identify certain signs of damage that may become expensive to repair if ignored. Inspect for cracks, tears, holes, worn, rotted metal and missing materials, ie. Signs of wear may mean the roofing system requires a more thorough inspection.
4. Heed Professional Advice
Ensure you take your contractor's advice regarding your commercial roof seriously always. Professional roofing contractors are trained on how to identify roofing issues before they escalate and become a major problem. If you're properly advised by your roofing contractor to get rid of your old roof and install a new one, heed that advice. Sometimes repairing a roof that has outlived its lifespan can be a waste of money and precious time. You will only keep spending money needlessly, making repairs on a deteriorated roof.
5. Keep Your Roof In Good Condition
Most importantly, do all it takes to keep your commercial roofing system in a good condition. This includes being careful when hiring a commercial roofing contractor and ensuring you select the right type of roof. You also need to take your roofing inspections seriously to make certain it's in good condition at all times. If winter or a storm season is approaching, make sure to find a contractor to inspect your commercial roof for it's ability to handle the extreme weather; this will give you piece of mind. Utilizing the above strategies will keep your commercial roof in perfect condition and prevent unnecessary problems.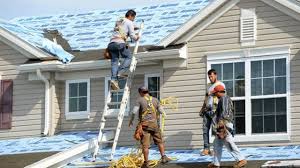 Tips For Your Commercial Roof Maintenance
After investing money into your commercial roof, you want to be sure that it lasts a long time. Fortunately, there are many ways for you to maintain your roof, and save money in the long run on repairs. By following the advice listed here, you could potentially make your roof last an additional 5 to 10 years.
Get Your Roof Inspected Bi-Annually
A quality commercial roofer should be walking through your building and its exterior every six months so that you can be made aware of any necessary repairs before they become worse. This really is the easiest step in keeping your roof lasting as long as possible. Like with any kind of check-up, if you stay on a regular schedule then you'll prevent a lot of potential disasters. A great way to remember is to include it with other regular maintenance you might need, so you never forget getting one of the most important parts of your building checked.
Check After Bad Storms
In addition to having a professional roofing contractor examine your roof, you can check your roof yourself after a bad storm. This is a great idea after any severe weather, even if you don't see signs of leakage inside. If you have safe access to the roof, go up there and take note of any cracks, broken shingles and thick patches of leaves, especially if they're already rotting.
Inside you will want to check the highest floor in your building. You will want to look for wet spots on the floor, listen for sounds of dripping water, and look for brownish or yellowish irregular circle shapes. These are all signs that water has leaked in.
Replacing Missing or Damaged Elements Immediately
When one shingle falls off the roof, it loosens up the rest and makes it easier for the next storm or high gust takes more down. In the realm of roofing, problems left unresolved can snowball quickly; all it takes is one loose shingle coming off to set the rest in motion, like the first domino that eventually causes all the rest to fall. After your roof has been professionally inspected by a qualified roofing contractor and all problem areas have been catalogued, don't waste any time in making all the necessary repairs. All it takes is one gap in protection for water to get in and rot the entire roof system, so once you're aware that a problem exists don't hesitate to contact a professional to fix it. Paying for repairs immediately may be more expensive in the short-run but will undoubtedly pay off in the long run. After all, wouldn't you rather pay for the replacement of a few parts to your roof than the whole thing?
Installing Roof Ventilation
Roof ventilation is built to stretch a roof's effective lifecycle by reducing heat buildup, improving its airflow, and protecting it against seasonal weather changes. Simply put, roof ventilation keeps your roof from getting overheated during warm months while simultaneously preventing damage from warm, moist air from rising into the roof membrane during cooler periods.
Using ventilation to maintain a low temperature throughout a roof system also carries the added benefit of allowing you to control any ice dams caused by melting snow.