Moving Guide
When you are relocating, last-minute loose ends can fray nerves and take you off schedule. Deciding what and what not to pack is often a factor in this. It can be hard to let go of items you have owned for a long time, but by making choices ahead of time, you will save yourself a lot of hassle in the run-up to the move. What's more, by selling unwanted items you can earn a bit of money to contribute to the cost of moving.
How To Get Rid of Clutter When Moving
At some point, you may just want to simplify moving and sell everything, but with a few tips for prioritization you can offset moving costs, reduce clutter, and make moving easier before and after arrival. If you have expensive heirlooms and antiques that you won't be able to move with you, now is the perfect time to bestow a gift to your family members or friends
For everything that can be sold, plan a yard sale or garage sale. Wait for great weather and try to hold your sale for multiple days. Remember that most families are free to visit on the weekends, and the welcome of your home is important to attract more customers. If you're a member of a homeowner's association or neighborhood, work within your community for the best results
What Not To Pack When Moving
It can be difficult to choose which items to keep, but you can create a list based on how easy it is to replace an item, how often you use it, and how much it is worth for other people. For items that will be unusable to others, it may be worthwhile to rent a dumpster if you know you will be throwing stuff away when moving
Here are some suggestions of things to cut down on:
Clothing – It is easy to overdo it when it comes to packing clothes. Take time to assess what items you wear regularly or are particularly fond of, and then donate or sell the rest. Consider the season or the weather in the location you're moving to help you cut back.
Bulky Items – DVDs and books take up a lot of space when packing, as do large electronic items like unused laptops/desktop computers, or DVD players. These are great things to donate or try to get rid of in a garage sale.
Papers – Obviously, you'll want to keep important documents with you when moving, such as your marriage license, family birth certificates, and financial records. However, less important papers are an unnecessary source of extra weight – consider storing or scanning them into your computer.
Bathroom Items – Half of what is currently in your bathroom cabinets is most likely out of date, unimportant or easily replaceable. If you have expired medications, make sure you dispose of them in the safest manner possible.
Old Furniture – Furniture is often bulky and heavy to transport. Moving to a new home may be the perfect opportunity to let some old pieces go. There are plenty of charitable organizations that could give your old furniture a new home, as long as it is still in usable condition.
Garage Junk – Just like your bathroom cabinet, there are probably a lot of items sitting in your garage that you will never need. If these items include insect killer, fertilizer, and other potentially dangerous chemicals, make sure you dispose of them safely.
Appliances – It's quite possible that a new home means an update of your current refrigerator or washer/dryer combination. If this is the case, but you need to do something with your old appliances, a local charity would more than likely be happy to pick them up – provided they are operational, of course. This will also help your mover get you loaded and ready to go quite a bit faster.
Household Items – Take a look around your home and make a note of what you use and what has just been gathering dust. Household items are perfect things to sell at a garage sale.
Bedding – You probably have some old mattresses and blankets that need to be switched to new ones. Not only will the new bedding be more comfortable, but you will have a lot more room in the moving truck.
Vehicles – If appropriate, you may want to consider selling the extra car or truck that has been sitting on your property. This would help lower some of the expenses associated with the move.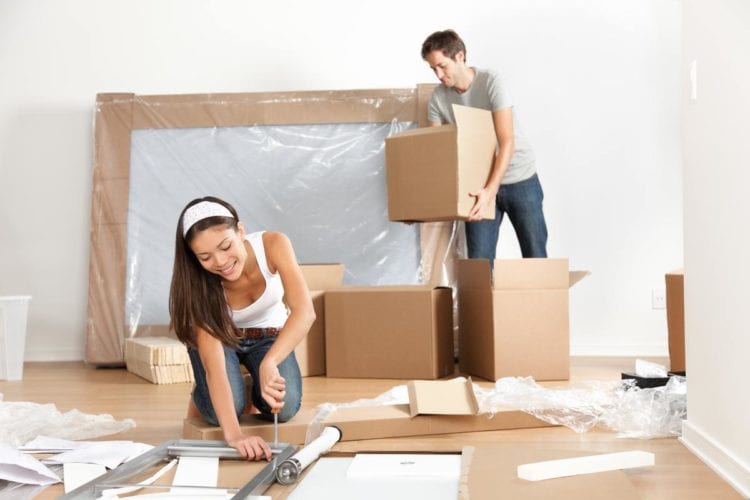 Biggest Packing Mistakes from Moving Experts
When it comes time for your move, you'll find plenty of companies that provide not just moving services, but also packing and unpacking. It's worth considering since moving companies are usually not liable for damage in any boxes that you pack yourself.
For some people, the risk of damage is lower than the expense of professional packers. Others simply prefer to handle the work on their own, as part of the process of downsizing and categorizing household items.
The wrong materials. It is important that you have the appropriate-sized boxes for what you will be moving. Keep it simple and try to stick with three different sizes, rather than a hodgepodge of old liquor and fruit boxes. This ensures a more uniform pack job in the truck. Don't forget to pick up packing tape, packing paper, and a marker to label the boxes.
Boxes weighing more than 50 pounds. Too heavy of a box can compromise the integrity and stability of the box when carrying it and can cause injury to the movers attempting to lift it. Use small boxes for books, files, or canned goods.
Waiting until the last minute. On the days leading up to the move, take an hour each day to spend on each room. Most rooms can be completely packed up when a solid, uninterrupted hour is dedicated to it.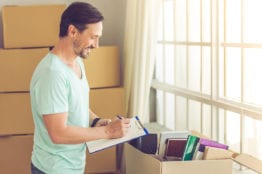 MOVING FAQS
Answers to Frequently Asked Questions
It's normal to have questions when you go new places®. Here are answers to many of the questions we hear most often. If you don't find the answer you are looking for, please let us know. We're here to help.
Where do I begin?
Before you move, you'll need to know where you are moving to, when you would like to move, and have a good idea of the things you want to move.
DOES MOVE LONG DISTANCE? WHAT ABOUT LOCALLY?
Yes, provides long distance and interstate moves throughout the U.S., across the border, and internationally. Your local Atlas Agent can also help you with local moves within your community, county, or state.
CAN HELP ME PACK? OR MAY I DO MY OWN PACKING IF ATLAS MOVES ME?
Yes, your Agent provides professional packing services to lift the stress when you go new places. Our packers are trained to work efficiently and use best practices ensure your goods are ready to travel safely. If you prefer, you can do your own packing—or ask your Agent to pack particular items for you.
WILL MOVE MY PET?
We want to make sure every member of your family experiences a good move. While is not authorized to transport live animals, your Agent can recommend providers who specialize in this service.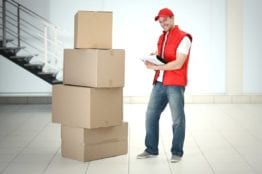 Moving Checklist: How to Make a Smooth Move
Moving is hard work. Packing all your stuff, helping your kids and pets make the transition, and loading a moving van with boxes isn't easy. Oh, and did you remember to change your kids' school records, shut off the utilities, call the post office, set up the internet, and schedule the water to be turned off?
Since there's so much to keep up with, we've put together a checklist so you can move like a pro. We broke the moving process into steps to help you stay focused, remember the small things, and savor the last moments in your old home.
Many people start the process of moving by packing. But there's plenty to do before you even think of putting something in a box! A smooth move is only possible with a clear plan, so while you still have plenty of time, work out the details of your moving day
Pick a Good Day to Move
If you're able to choose your moving day, pick a day that will save you money. The most affordable times to move are mornings, weekdays, and off-season months (late September to April).
Create a Budget
Are you prepared for the cost of moving? First, there are all the little costs—a roll of packing tape here, tipping the movers there. Then comes the larger cost. To move less than 100 miles with the help of two movers and a truck, you'll probably pay around $80–100 per hour. But for a move over 100 miles, expect to pay anywhere from $2,000–5,000.(1) So, whether you're crossing state lines or heading across town, create a moving budget with your spouse.
Decide if You'll Move Yourself or Hire a Moving Company
No moving checklist is complete without the decision of hiring a moving company or doing it yourself. That's right. A "do it yourself" move. If you want to save money, have an arsenal of trustworthy friends, and can spend a lot of time planning your move, move yourself.
If, however, you have the money and would rather leave the heavy lifting to the experts, then by all means, hire a moving company.
You can also do a partial DIY move. If family and friends can help pack and load the truck, then you can save a bunch by only hiring the movers to unload at your new home. And we're all about saving where we can.
Make an Inventory of Your Belongings
Keep track of everything you own. Start at one end of the house and work your way to the other. Then you can pack with inventory in hand to be sure every item makes it to the new house.
Organize a Moving Folder for All Paperwork
Soon, you'll have moving estimates, paperwork, and receipts. Buy a binder and keep all your moving records organized.
Notify Your Kids' Schools
As soon as you decide on a day to move, tell your kids' schools. You'll have to transfer their student reports and vaccination records to the new schools. And even if your kids are transferring schools within the same county or aren't changing schools at all, the school system still needs to know so it has record of your new address. After all, no one wants to miss those PTO notifications!
Measure Your Furniture
To make sure your furniture can fit into your new home, take measurements of it and the doors. If a piece of your furniture is larger than the passageways of your new home, don't bother moving it. Sell it or donate it! If you sell it, use that cash to help with the move
Things Never to Pack to Keep You and Your Mover Safe
When you plan what to pack, it's also important to know what not to pack for a safe residential move. By law, there are many things a mover is not allowed to take. Know the rules ahead of time. Don't pack these three types of things when hiring long-distance or local movers.
HAZARDOUS MATERIALS
By law, the following hazardous materials can't be taken by a mover. Check your local government for hazardous waste events where disposal is usually convenient and may be free of charge
POISONOUS MATERIALS
Poison cannot be transported by your mover. This includes windshield washer fluids for your car, rodent poisons, bleach and hydrogen peroxide, as well as most home cleaning products. If you are using local movers, you may elect to transport these items yourself. For long-distance moving, it may be wise to give these products to friends or neighbors.
PERISHABLES
Most perishables won't be transported, even by local movers, and include all food (frozen, fresh and refrigerated) and beverages, open or not. Canned and unopened containers of stored food can usually be taken, but it's a good idea to limit them. Stop grocery shopping no less than a week before the move. Plants are also perishable and are bound by agricultural rules which may or may not allow your plant to be brought into your destination state or country.