How to Get Your Dream House with These Home Improvement Tips!
It doesn't matter what kind of home you own, there are always ways to improve it. Whether you want to simply remodel a room or have the entire property renovated, there are home improvement experts available to help you. Making improvements to a home, no matter how simple or complex, will increase its value.
Choose improvements that add a lot of value
This is especially important if you plan on selling the house someday. Some home remodeling/addition projects have a high return on investment. Some of the highest ROIs include:
Attic bedrooms
Basement remodel
Backup power generator
Deck addition (particularly wood or composite)
Entry door replacement with fiberglass
Bathroom remodel
Bathroom addition
Use lighting tricks and mirrors to make small rooms appear larger
Clever use of indirect lighting, such as installing cove lights in soffits, creates the illusion that the walls are higher. You can also use mirrors to give off the illusion that a small space is larger than it is. For instance, you can group several small mirrors together on the wall and paint their frames. They have many uses in small kitchens as well. A mirror placed behind the stove will bounce available light around. You might also want to glue mirrored tiles to the front of kitchen cabinets.
Brighten a dark room up with highly lacquered walls
Lacquered walls are very trendy, and they don't appear to be going away anytime soon. This design can be used in any room, and any colour can be used. However, you must first make sure that the walls or woodwork is in top-notch condition. Just as long as the walls don't crack or move, the lacquer will hold up fine for years to come.
Don't forget the little things
Details play an important part in home improvement. In the kitchen and bathroom, it's okay to splurge on custom cabinet knobs, pulls, and faucets. Would you prefer a one handed faucet, two handed faucet, hands-free (motion sensing) faucet? What kind of material would be ideal for your kitchen and/or bathroom? Stainless steel? Chrome? Oil-rubbed bronze? You can also have new fixtures installed.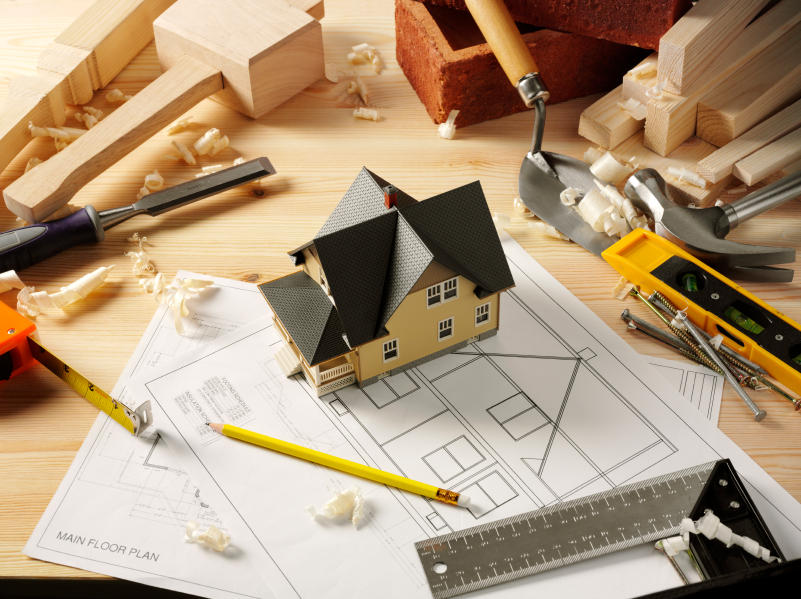 How To Get The Most Out of Full House Renovations?
Full house renovations take a lot of time. You not only have to consider each individual room, you must consider the house as a whole, as well as the landscape. You might even have to leave the house at some point during the renovation and stay someplace else. If one thing goes wrong, it could affect the entire home and compromise the whole project.
Hiring a project manager is essential. Unless you have a lot of experience, you probably won't be able to manage the entire project yourself. A full house renovation requires a lot of work and organization.
It's also a huge investment. If you want to get the most from your investment, here are a few ideas:
Don't be afraid to spend extra time and money on the kitchen. It gets a lot of wear and tear as people go in and out of it every single day, cooking, eating, cleaning doing dishes, etc. Go for high quality cabinets with a tough exterior finish and a solid flooring solution. The appliances and furniture should all be high quality and durable as well.
Have your heating, cooling, and insulation improved where necessary. You might want to conduct an energy audit to learn where you should insulate. Have pipes, your AC, and heating system inspected. You might also want to invest in better windows.
Don't make any changes to the bathrooms without first checking your water supply lines and the water heater. Know your local plumbing code and keep the street-side water supply lines in mind. You wouldn't want to invest in a luxurious new tub just to find out that the tank is inadequate for it.
Determine if your roof, gutters, siding, soffits, etc… are in need of replacement or if repairs will suffice. Some materials begin to show wear and tear more quickly than others. Know the maintenance requirements for your current roof and compare it with the maintenance requirements with other materials.
Consider whether or not it would be worth it to replace all of your exterior walls. If a lot of siding needs to be removed, you might as well replace everything. If there is brick at the main level, you might want to go with wood siding or cement as an addition. Replacing the doors and windows simply to match the new siding is an aesthetic choice that might not be worth the money. Only have them replaced if there is a structural and energy-efficient need to do so.
If you plan on adding on to your house, take care of the existing space first. Don't have another room built on until you've renovated the attic, basement, and other storage areas already existing on the property.
You will also want to take care of the house itself first before moving on the landscape. Start from the inside and work your way out.
Renovate for the future, not for the present. Don't cut any corners and settle on low quality materials. Also, think about the design. Don't invest in a particular type of flooring, wallpaper, furniture, paint job, etc… just because it's trendy right now. Otherwise, it will seem outdated a decade or two from now. Go with a timeless look.
How Can I Prepare for the Kitchen Renovation Process?
Remodelling your kitchen can completely transform your home. For many families, the kitchen is a natural place where everyone gathers, enjoys meals, and shares the highlights of their days. A kitchen home renovation can be used to add updated appliance for easier meal preparation and can make the space more visually appealing and welcoming.
Set a Budget
First, you must decide how much you can afford to spend on your new kitchen. Take into consideration new appliances, flooring, wall finishes, fixtures, and labour. Always leave some extra funds leftover for unexpected needs.
Choose Your Appliances
If your kitchen renovation includes replacing some or all of the appliances, this will be one of the biggest costs and focal points of your project. This is an opportunity to completely change the aesthetic, function, and energy efficiency of your kitchen. It is important to know which appliances you will be installing, as you will need to fit your counters and cabinetry around these pieces.
Create Your Design
Next, you can begin to draft your overall design for the kitchen. This includes where the appliances will be installed, as well as what the overall look of the room will be. You can choose a colour scheme, the type of cabinetry you would like, whether or not you will add elements, such as a kitchen island, and what type of flooring you would like in the room. Remember to calculate the costs of each design element to ensure that they will all fit within your kitchen renovation budget.
Determine If You Need Alternative Living Arrangements
While the kitchen may only be one room in your house, it is certainly an important one. If your home renovation is going to keep you from being able to use your kitchen for many days, you might consider making alternative living arrangements. Depending upon your project, these arrangements may only be necessary on days when it is necessary to turn off the electricity and/or water in order to safely install the appliances. Obviously, it may not be necessary to leave your home, but this could be a more enjoyable option for you and your family and can allow the work to proceed more quickly.
How Can I Change My Living Room During a Home Renovation?
When making home renovations there are some projects that immediately come to mind: upgrading the kitchen or making the bathroom more modern. But, how can you make improvements to your living room when there are no appliances to upgrade or cabinets to replace?
Update the Flooring
Has your carpet become faded and riddled with stubborn stains? Take this opportunity to rip out the old and install new. Or, if the kids and pets are out of the house, consider putting in beautiful, natural hardwood floors for a warm and sophisticated look.
Make Your Walls More Exciting
There's more to decorating than just eggshell white walls. You can completely change the feel of a room by painting in a light and neutral tone that adds personality without making the room feel smaller. If you want to experiment with bolder, darker colours, you can paint a living room accent wall in a hue that compliments the rest of your chosen design.
Get Creative with the Lighting
Many people underestimate just how important lighting is in a room design. During your living room home renovation, you can have your contractor install recessed lighting. You can install can lights that are recessed into the ceiling, providing overhead lighting without taking space away from the room, or you can install recessed lighting behind panels in the walls in order to highlight decorative items
Install an Advanced Home Entertainment System
If you like to entertain, watch movies, or play video games in your living room, you might consider having your contractor help you with your entertainment system. During your home renovation, you can rewire your living room to better incorporate a surround sound stereo system, wall-mounted electronics, and many other types of technology.
Home Renovations Before and After: What to Expect?
You might be wondering what to expect with home renovations, before and after. Before you call a contractor to acquire an estimate, you should first do some research on your house and neighborhood. The more you know about your home, the better you will be able to prepare.
What to Consider Before Committing to a Remodeling Project
You need to know the age, design, and model of your home. Was it built with a standard or custom design? Learn as much about the history of your home as you can. If you are thinking about adding onto your home, you must first check with the municipality to see if there are any constraints or restrictions. Assess existing conditions and have a clear understanding of zoning laws. This is especially important if you are planning to have the exterior of your home renovated.
Estimate Your Budget and Begin Planning the Project
How much of the house requires remodeling? Do you want to stick with the interior or do exterior renovation as well? Are there any specific rooms you want to put a lot of focus on? Contact a contractor to come and review the preliminary plans with you and give you an estimate.
If you are flexible, you will be able to save money. If you have nowhere else to go during the renovation, you might want to stick to one area of the house at a time. You may decide to work with designers or architects. Let them know about your personal tastes and requirements. Do you want a traditional living room? Country kitchen? Vintage bathroom? Sleek, contemporary bedroom? Whatever you want, it's recommended that you get the details on how long it will take to perform the required tasks in writing. A reputable company also provides liability insurance for clients.
What to Expect After Renovation
Your project isn't complete until everything is inspected. Your contractor should ensure that all the systems in your home – such as plumbing, wiring and HVAC are functioning properly and efficiently to suit the new remodel. There will also be a cleaning up and waste disposal process. Ongoing maintenance and monitoring is important.