Thyroid Eye Disease (TED or Graves Eye Disease)
What Is Graves' Eye Disease or Thyroid Eye Disease?
Graves' eye disease, also known as thyroid eye disease, is an autoimmune condition in which immune cells attack the thyroid gland which responds by secreting an excess amount of thyroid hormone. As a result, the thyroid gland enlarges and excess hormones increase metabolism. The hypermetabolic state is characterized by fast pulse/heartbeat, palpitations, profuse sweating, high blood pressure, irritability, fatigue, weight loss, heat intolerance, and loss of hair and alterations in hair quality. When the immune system attacks the tissues around the eyes, it causes the eye muscles or fat to expand.
The eyes are particularly vulnerable to Graves' eye disease, because the autoimmune attack often targets the eye muscles and connective tissue within the eye socket. This likely occurs because these tissues contain proteins that appear similar to the immune system as those of the thyroid gland. Ocular symptoms can range from mild to severe; but only 10-20% of patients have sight threatening disease. Another tissue that can also be involved in the immune attack of Graves' eye disease is the skin of the shins.
Signs and Symptoms of Graves' Eye Disease
In Graves' eye disease the tissue around the eye is attacked, and the result is inflammation and swelling, causing:
Redness and pain
Puffiness around the eyes
Bulging of the eyes
Dry eye and irritation, occurring when the eyelids cannot close completely over bulging eyes
Progressive swelling may cause:
Increased pressure inside the eye socket
Pressure-pain or deep headache, which worsens with eye movements
Decreased vision, when swollen tissues push on the optic nerve
The muscles around the eye are particularly susceptible to the attack of lymphocytes. As they tighten and lose their ability to stretch, these symptoms can occur:
The eye is pushed forward in its socket causing a "staring" appearance
Restriction of the eye's normal movements, resulting in double vision
As symptoms build, many patients fear they will lose their vision. Fortunately, patients almost never go blind from Graves' eye disease.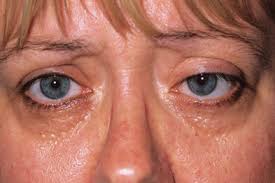 Problems associated with thyroid eye disease
Dry irritated eyes
TED may cause you to experience dry, irritated and often teary eyes. This is usually due to the eyelids retracting and or protruding. When the eyelids do not close completely at night, the cornea (clear front portion of the eye) dries out and becomes quite uncomfortable. The use of lubricating ointment for the eye at night and artificial tears during the day can provide a great deal of relief. Do not be afraid to use the tears frequently, as much as every 1/2 to 1 hour if necessary.
Double vision
TED can cause swelling, irritation and scarring of the muscles that move the eyes. This can lead to double vision. Double vision may not be present all the time, sometimes it is noticeable only when looking in certain directions, while in other patients it is always present. Often the amount of double vision will change week to week. At times it can disappear completely without treatment. Once the double vision has been stable for at least several months, surgery can be performed to correct it if necessary. Dr. Dailey will refer you to a referring provider for the surgery.
Eyelid retraction
TED can cause scarring in the eyelid muscles. This scar tissue contracts or shortens, causing the eyelid to retract and increasing the white showing above and below the colored part of the eye. The amount of retraction tends to be variable, often changing week to week. In some patients the retraction will disappear with time. In addition to contributing to an unusual appearance of the eyes, the eyelid retraction can cause significant dryness, irritation and tearing. Light sensitivity is another common complaint. Severe drying of the front of the eye can occasionally lead to vision loss.
It is usually preferred to wait for the eyelid position to stop changing before proceeding with surgery. Surgery involves moving the eyelids into a more normal position. In the upper eyelids this is usually performed by removing or stretching the scarred muscles. In the lower eyelids, a graft is often needed to help push the eyelid upward. Eyelid repositioning can make a tremendous difference in both the feel and appearance of the eyes.
Eye protrusion
TED can cause an accumulation of fluid in the fat and muscles around and behind the eye. This can push the eye itself outward making it much more prominent. Coupled with eyelid retraction this can alter the appearance and comfort of the eye. Although less variable than eyelid retraction, the protrusion of the eye can return to normal on its own. After being stable for several months or more, it is sometimes desirable to surgically move the eye into a more normal position. This can be accomplished by removing a portion of the bones surrounding the eye. The swollen fat and muscles around the eye can then fall into the extra space, allowing the eye to move backward. This can go a long way toward returning the eyes to their pre-thyroid appearance and relieve the relentless pressure and irritation most patients feel around their eyes.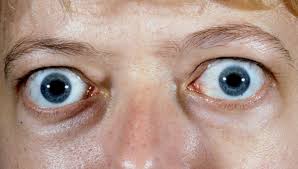 Common Eye Problems
The following common eye problems can be easily treated. But, sometimes they can be signs of more serious issues.
Presbyopia (prez-bee-OH-pee-uh) is a slow loss of ability to see close objects or small print. It is normal to have this problem as you get older. People with presbyopia often have headaches or strained, tired eyes. Reading glasses usually fix the problem.
Floaters are tiny specks or "cobwebs" that seem to float across your vision. You might see them in well-lit rooms or outdoors on a bright day. Floaters can be a normal part of aging. But, sometimes they are a sign of a more serious eye problem, such as retinal detachment. If you see many new floaters and/or flashes of light, see your eye care professional right away.
Tearing (or having too many tears) can come from being sensitive to light, wind, or temperature changes, or having a condition called dry eye. Wearing sunglasses may help. So might eye drops. Sometimes tearing is a sign of a more serious eye problem, like an infection or a blocked tear duct. Your eye care professional can treat these problems.
Eyelid problems can result from different diseases or conditions. Common eyelid problems include red and swollen eyelids, itching, tearing, and crusting of eyelashes during sleep. These problems may be caused by a condition called blepharitis (ble-fa-RI-tis) and treated with warm compresses and gentle eyelid scrubs.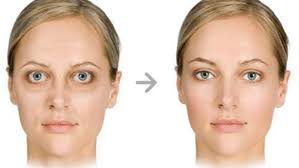 Common Eye Conditions
Nearsightedness – This is also known as myopia. A person can see objects clearly when they are close to them, but objects at a distance will appear blurred. Nearsightedness affects about 30% of the population and is easily treated with contacts or glasses.
Farsightedness – This is also known as hyperopia and is the opposite of nearsightedness. A person can see objects clearly that are far away, but objects close to them are blurry. This is also easily treatable just like myopia.
Astigmatism – The surface of the cornea or lens is not spherical, causing your eyes to focus at two separate points instead of one. This can cause eye strain, discomfort, headaches, blurred/distorted eyesight, night vision problems and more. We can easily treat astigmatism with proper contacts or eyewear.
Macular Degeneration – This is a deterioration of the center part of your retina or the area in the back of the eye that receives the images and sends information to the brain. A person will start to see a gray/black dot in the center of their eyesight which will gradually grow larger. This condition is the leading cause of vision loss and is incurable, however, the effects can be slowed with treatment.
Cataracts – The clouding of the lens in your eye that can affect only one eye or both eyes. The lens sits behind the colored part of your eye (the iris) and will cloud over, causing light to scatter and blur. You may also see a double vision with objects. This condition generally is caused by age or injury but sometimes can be caused by genetics, past eye conditions, surgeries, chronic illnesses, and medications.
Glaucoma – Condition where the optic nerve of the eye is affected. The optic nerve carries images from the retina to the brain. Glaucoma often has no noticeable symptoms and is not painful. You will gradually lose your peripheral vision though, and that loss will continue. With frequent eye exams, we can detect glaucoma and greatly slow down the progress of the disease.
Tips for Healthy Eyes
Protect your eyes from too much sunlight by wearing sunglasses that block ultraviolet (UV) radiation and a hat with a wide brim when you are outside.
Stop smoking.
Make smart food choices.
Be physically active and maintain a healthy weight.
Maintain normal blood pressure.
Control diabetes (if you have it).
If you spend a lot of time at the computer or focused on one thing, you can forget to blink. Every 20 minutes, look away about 20 feet for 20 seconds to prevent eye strain.