Things to Consider When Renovating Your Home
Whether a part of your house is in desperate need of a remodel, or you simply want to start all over with the decor and feel – there are vital things to consider during the renovation process. Here are the main things you shouldn't forget when renovating your home
Meticulously create a plan of action before doing anything – and stay organized with it!
Like anyone else ready to renovate their home from the bottom up, excitement can make you forget that a lot of prep work needs to be done before diving into anything. Make sure you have a plan of action in how to handle deconstructing and gutting certain areas, make a schedule of when to commit to specific actions – such as painting and deep-cleaning, etc., and of course, stick to your plan! With an organized plan keeping tabs on everything you need to do, you never need to worry about feeling frazzled in the midst of the chaotic but exciting renovation process.
Know your budget – and stick to it
While building your dream house is the ultimate goal, it's important to not get too ahead of yourself with what you can actually afford. Therefore, you need to be firm with yourself on a budget and prepare yourself for things going wrong. By knowing your budget while still having a cushion of extra money, you can rest assured that there won't be any financial issues to worry about.
Your safety should be the most important concern
Accidents can happen, so you need to be prepared for them and take precaution to avoid hazardous situations all-together. Never skip out on wearing protective head and eye gear, keep gloves on at all times and dress in appropriate clothing that can handle dirt, grime, and unexpected elements.
Find a reliable contractor
Your contractor should always meet your expectations. They are the foundation for aiding you in tackling big projects, such as replacing the roof and tearing down or building walls. Check out online reviews of local contractors to find the best of the best, or ask your family and friends for referrals to ones they have done business with in the past.
Understand how tools work before you use them
Sometimes, things will work in a straightforward manner – that is rarely the case for power tools. When it comes to power-tools or any other necessary item from the hardware store, you need to fully understand what a tool is used for, how to use it, and how to be safe using it. This diminishes the possibility of any unwanted accidents from happening.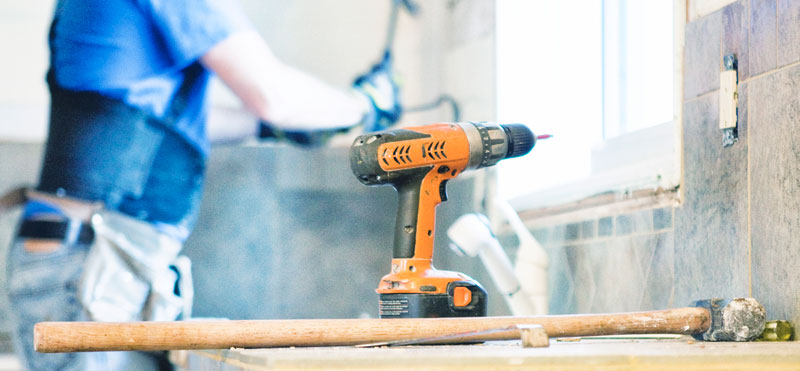 Home Renovation Ideas (Home Remodeling Tips)
Home Renovation Ideas
When it comes to remodeling and decorating your home, it's always helpful to see what's popular and trending. If you haven't updated your home for a while, you're in for a treat. Technologies have improved so that there are more durable and great looking options for more affordable prices, and many innovations have allowed more smart technology breakthroughs with more convenience
Open floor plans
This trend has been emerging for years now, and I'm constantly seeing home buyers look for open concept floor plans during the home buying process…or else they are checking to see which walls are load bearing and what they can knock down the week after they close on a home. Open concept floor plans have so many advantages. Not only do they make your space look larger, but they also make the cooking, dining, and gathering spots more informal, flexible and cozy. Most often, the kitchen space is opened up into a family room space (even if that means eliminating the dining room). This way, mom can keep an eye on the kids without hovering over them. Friends and guests have an easy way to gather for coffee and chat. In addition, open floor plans allow more light into the home, so it brightens the area up and makes it look more cheery. And, it gives you more flexibility in your space for furniture, addition of an island and multiple seating areas.
Let the sun shine in…more windows and more lights
During the day, everyone loves to have natural light. We are seeing larger (as well as more) windows that allow natural light in as well as leverage the view of the outdoor landscape. You will be amazed at what a difference replacing and enhancing your windows can make. Many older windows have developed a haze on the glass (sometimes because the double pane has been broken) and the frames often have many layers of gunky paint. In addition, most newer windows are more energy efficient, so they will make the indoor temperature more comfortable while helping save money on your energy bills. With larger windows, more light poring in and updated white framing, it will give your room a whole new look. On the lighting front (for the evening), we have seen a revolution in lighting. Not only do we see lighting in more areas (e.g. under cabinet lighting, over island lighting, kick plate lighting), but we are seeing many pendant lights that add style and personality to a room, especially in kitchens, entry areas, family rooms, dining rooms and living rooms. These can range from rustic/farmhouse style lights to super modern and contemporary lighting options. The possibilities are endless. As a nice little side benefit, you'll be happy to know that the new age lights are more efficient and longer lasting than the halogen or fluorescent bulbs.
Master bedroom suites
The master bedroom suite has really become a true sanctuary, especially among luxury home buyers. The suite includes a larger and luxurious bathroom (often spa-like), his and her large customized closets/changing areas, a larger main room, and often an extra room which is sometimes used as an office or exercise room, or temporary nursery area. Bathrooms tend to have all of the bells and whistles with an upgraded shower (i.e. larger and multiple shower heads, seating areas, glass enclosures. The vanities tend to include double bowls (undermount) and we are even starting to see smart and heated toilets, and of course radiant heat floors. Some are even opting for wireless music systems and warming drawers.
Smart home innovations
The appliances and homes are just getting smarter and smarter. We are starting to see refrigerators that will alert you when grocery items are running low (and soon, they'll make it easy to reorder them, too). Coffee makers can be programmed to have your coffee brewed and ready for when you wake up. Lighting and heating systems can be programmed with to adjust based on time of day and they can be adjusted from smart phones and tablets. And, of course more and more people are using Alexa for more tasks.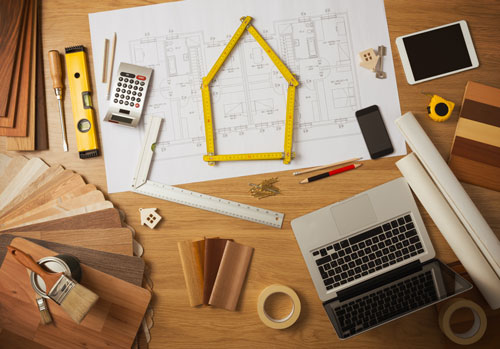 Useful hacks to renovate your house on budget
Breathing life into an old home is a pretty challenging job. You start off with small renovations around the house but soon enthusiasm gets the better of you and you end up with huge bills for things that you may not necessarily need. If you want to avoid such mistakes and run the process smoothly, follow our house remodeling ideas to make budget-friendly improvements to your home
HOME IMPROVEMENT IDEAS TO RENOVATE YOUR HOUSE ON A BUDGET
Start off by making updates to your kitchen and living room as they not only make your home look good but can also increase its value in the eyes of the buyers.
Pre-planning
Before a single inch of your kitchen space sees the sledgehammer, focus on everything that might require remodeling. This is very important because one of the factors that usually blows away the budget is selecting supplies for the kitchen on a whim during the renovation. Pre-planning will also help you avoid the situation when the product you want is unavailable, and you are ultimately forced to pick an alternative that might be costly. You will know about the status of the product beforehand and you will work accordingly. This will also help you renovate your house at a reasonable price.
Picking Colours for Outdated Cabinet Design
Getting a new set of cabinets is one of the major expenses one could run into. Also, the procedure of kitchen cabinet refacing – adding a new sheet of wood to the exterior of the cabinets – is quite costly. If your cabinets are in a satisfactory condition, consider keeping them and perhaps just giving them a fresh coat of paint so they look brighter, cleaner and fresher. It is one of the best house remodeling ideas that you can use to make your house look elegant.
Lighting
Who wouldn't appreciate a bright and well-lit area for cooking? Just a single installation of the light fixtures such as a pendant lamp or any overhead/ceiling LED light can make a huge impact, without busting your budget, enabling you to renovate your house in a cost-effective way. An under-cabinet light fixture or a 'task light' would be great for increasing luminescence on the cooking surface.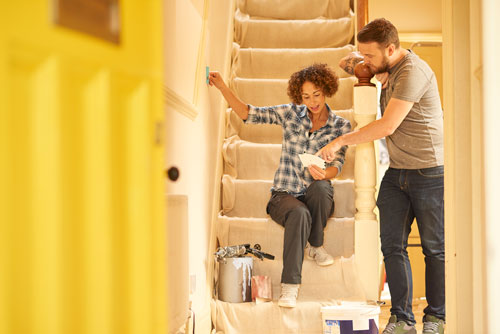 Top home renovation myths that we're busting today
If you've recently made the decision to do some home renovation, you probably have a billion questions about how you can best go about doing so. Improving your home is going to require a hefty investment of your time, effort and money, so it's important to ensure that you make the right choices from the get-go
Want to separate fact from fiction? Let's go ahead and debunk some of the top home renovation myths out there which may be holding you back from achieving your perfect dream home.
You save a heck of a lot of money doing home renovation yourself
This is one of the most common home renovation myths – if you want to save money, it's best to do it yourself instead of hiring a professional.
You should always choose the lowest bidder
When it comes to hiring an interior designer or contractor, many people believe that the best method is to get 2-3 different quotations and pick the lowest one. (Alternatively, some others believe it's better to go with the most expensive option, as higher fees indicate a higher level of experience.)
Any remodelling project will add value to your home
This is another common myth – that any remodelling project you do will increase your home's value.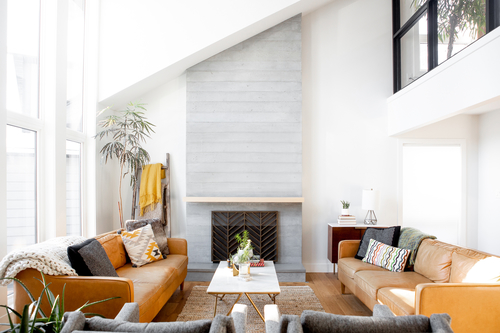 Here's when to renovate your home and when to move
Renovating your current home
If you decide to stay put and renovate your current home, the No. 1 thing to do is be organized, said. "So many people, they just jump into wanting to renovate right away, or they start buying products to put in their house, but they haven't organized," he said.
Buying a new home
There are some things you just aren't going to be able to change about your current house. It may be that you need to send your child to a specific school district. The lot size or house size just may be too small, or it doesn't have enough bedrooms to fit your growing family.
Another thing to consider is how much money you'll have to spend on a renovation to get what you want. It may be better to move, instead. "There's a capped value in every neighborhood for any house," said.
"So it's good to have a real estate agent do an assessment of what the value would be after a renovation and then compare that to what it would be for a house that's big enough for what you need in a different neighborhood that has more space." Also, if your renovation goes over the assessed value, you could be in trouble down the road.
"The easy rule of thumb is at any given point if you, in an emergency, had to sell the home, you want to make sure that you're not upside down,"